Skip Navigation
Website Accessibility
Meet Our Framers


Head Framer Kingston:
Ginny Ballard
845.331.7780
Ginny@catskillart.com
Read Ginny's Story
Kingston:
Margaret Warren
845.331.7780
FramingK@catskillart.com
Head Framer Woodstock:
Emily Roberts-Negron
845 679.2251
FramingW@catskillart.com
Both Catskill Art & Office Supply locations have complete, full-service Custom Picture Frame Shops on-premises, offering the most comprehensive selection of mouldings and mat samples in the Hudson Valley. We have hundreds of ready-made frames and mats in stock.
Our talented staff is dedicated to the careful, timely completion of every project, large or small. Whether it's your child's first masterpiece—or your latest fine art investment—you'll appreciate our personal service and our attention to detail.
Our clients include many established and prolific area artists, collectors, local businesses, city and state agencies, antique dealers, gallery owners and, of course, your friends and neighbors.
"I always have had my work framed down in the city, but this year discovered how fantastic Ginny and her crew are. She went above and beyond the call of duty, helped me so much and fit me in when I needed work ASAP for an NYC gallery. The pride she takes in her work is so unusual and so commendable."
-Kingston Store Customer
We can Frame almost ANYTHING!
- Posters
- Antique Documents
- Limited Editions
- Over-sized Art
- Cross Stitch
- Paintings (Oil, Acrylic, Watercolors)
- Pastels & Charcoal drawings
- Sports Memorabilia
- Flags
- Gardening Implements…
We specialize in:
- Hand-Carved Mats
- Shadowboxes
- Stretching Canvas
- Framing Over-sized Artwork
Glass:
- Regular & Non-Glare with 45% UV Protection
- Conservation Glass (Regular, Non-Glare & Museum with 99% UV Protection)
- Anti-Reflection Glass (with 78% UV Protection)
- Plexiglass (Regular, Conservation & Optimum)
Drymounting:
- Regular & Acid-Free Foam Core (up to 48″ x 96″)
- Gator Board (up to 48″ x 96″)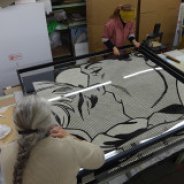 Mats:
- Crescent, Bainbridge, Strathmore, Larson Juhl
- 4-, 6- & 8-ply Rag
- Suede, Linen, Leather & Silk
- Color & Solid Core
Frames:
- Over 2,000 Wood Frame samples to choose from
- 120 Metal Frame samples to choose from
- Hundreds of ready-made frames available on site